Magic: The Gathering does a lot of good things for a lot of good people; it gives them an avenue to socialize, a hobby to be passionate about and a game to love and enjoy. In local game stores all around the world, long-standing friendships and relationships, deep cutting rivalries and meaningful senses of belonging are formed every Friday night, so it's almost redundant to say that Magic has an impact on people. It had an impact on me too, but not in a way you might expect. Magic awoke something in me that I wasn't aware existed before. A passion, a drive, an obsession with problem solving.
Magic is set up in such a way that it involves solving huge amounts of tiny problems; Which card do I pick in this draft, do I keep or mull this hand, which land do I play first, should I attack this turn etc. The whole game is an almost infinitely long sequence of decisions that, if enough of them are made correctly, lead you to winning the game, most of the time. This idea is incredibly attractive to me, and the little injection of variance that distinguishes Magic from games like chess keeps it fun and fresh where other games get stale and routine. Not to detract from one of the oldest games in history, but chess just isn't interesting for me. Magic is. Magic rewards you making the correct decisions, making lots of them in a row, and punishes you if you make the wrong ones.
I decided that I would apply this to my entire life – not consciously, I never sat down and thought "well this is what we're doing from now on, Denis." but it just turned out that way. As I played more Magic, I started to think more and more in these terms of expected value, percentage chance of success, "outs" etc.
Every single scenario, every problem I was faced with, would be broken down subconsciously into a decision – What if I do X, what if I do Y, how happy will each of them make me, what's the percentage chance that X will succeed rather than Y etc. I didn't just become obsessed with this approach in relation to Magic, it changed the lens through which I viewed my whole life. Everything was a series of decisions, and life was no different. In Magic, if I made the right decision enough of the time I would win the game. In life, I thought that if I made the right decisions often enough that I would be happy.
That's not how life works.
I've always been a somewhat obsessive person. I have a tendency to wrestle with things in my head and overthink them, over-analyzing scenarios and decisions long past the point of usefulness and quickly approaching the point of damaging. This had never been a real issue for me before, but when I started playing Magic, and more importantly continued to play it for a few years, it fed and nurtured that obsessive part of my brain.
Two years ago I started a YouTube channel called Windmill Slam with a good friend of mine called Oisin Lyons. We would
record ourselves doing a draft every week, and every second week we'd record one for MTGO Academy. This meant that I was drafting a lot. Now this doesn't sound like all that often, but I'd play in my own time too. I'd do 3 – 4 drafts a day at some times, like when a new set had just come out, and I'd grind value out on Magic online – my mood was dependent on my success in the drafts that I was doing. This isn't a piece about game addiction, though that is a very real thing and something that a lot of Magic players suffer from, just like any other game, but this repeated play altered the way I looked at the world.
This was all fine, honestly. I prided myself on being decision-focused, rather than results-focused (as preached by Limited Resources) and I thought that this was the best way to live ones life; by breaking things down into tiny decisions and trying to make those decisions as effectively as possible. I still think this is a great way to live, and it's still a part of me, but I hit a wall.
I hit a problem that I couldn't solve.
These issues are personal to me, and I wouldn't mind sharing them except that they involve other people and I don't think it's fair to talk about them in detail here for their sake. Long story short, I hit a problem that didn't have a solution. It was a situation that I was in, and some issues from my past, that I just had to learn to live with. There was no action that I could take to change them, there was nothing I could do "fix" what was happening and what had happened  – there was no decision to be made. My brain couldn't handle that.
I obsessed. I had anxiety attacks, I lost huge amounts of sleep and I'd be plagued by this niggling little machine churning away in the back of my head, and every couple of minutes it'd spew forth some little piece of worry, anxiety or guilt. These would wear away at me, day in day out, for over a year. I had spent so much time training my brain to push itself to make correct decisions that when it hit a problem that didn't have a solution, it just ran the problem over and over again, hammering at it with everything it had and achieving no result. This put strain on my happiness, my work and the relationships in my life, but I did all I could to keep it hidden – which was a huge mistake. There's a stigma associated with men not sharing their feelings and emotions, and mental health issues are so prevalent in young males as a result. We're taught from a young age to "toughen up" and "deal with it," and while this might work for a scraped knee or a dinged elbow, when your mind is rattling against the side of your skull 24 hours a day trying to solve an unsolvable problem – it can get a little tiring to say the least. Anyone reading this that knows me personally will likely be surprised that this even happened to me, I shared with almost no one.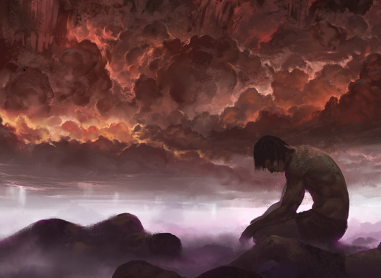 Eventually, it made me depressed. Not in a constantly-being-upset sort of way, but in a way that I didn't feel like anything mattered anymore. Things that usually made me happy didn't faze me anymore, things that would make me upset usually I just shrugged off. I felt like I was floating through my life on auto-pilot with friends, family and the whole world just rolling off of me like water off a duck's back. I started to realize how serious this was, and I started to get a little scared, when I couldn't think of a series of events that would ever make me feel happy again.
So I went and got help. I went to a counselor on the recommendation of a good friend of mine, and it is probably the smartest decision I have ever made. They didn't provide me with some magical cure or piece of sage advice that wiped my mental lens clean, I did most of the talking in fact. I poured everything that I was worried about, everything that caused me anxiety, everything that had driven my will and spirit down over the past year, and it looked ridiculous. Laying it out like that made it look like the stupidest things that no one should worry about, and that I should be able to just get over them and move on with my life. It wasn't easy, and it certainly wasn't quick, but that's what I've learned to do now. I've learned to let go.
Magic teaches a lot of good things, critical thinking , strategy, adaptability and probability to name a few, but it can also teach a dangerous obsession with these things if you let it. Magic is a game. It's competitive, there are high ranking tournaments in it and people put a lot of emotion and soul into it, but it's still just a game at the end of the day. I let it change the way I thought about myself and the world, and it almost ruined my life. Don't let it ruin yours.