Let me preface this by saying I was not paid by TCGplayer to write this article. I'm just a longtime buyer of cards from the website, and have had a seller account for a little over two years (although I don't use it nearly as much as I probably should). If you've been reading my articles for a while, you know that I herald from the middle of nowhere Upstate New York, around the Oswego area during the school year. Due to the fact that I'm within an hour's drive of the TCGplayer headquarters, and because I'm apparently a vocal member of the community, I was recently invited to take a tour of the place. I also got to have a sit-down talk with the brains behind the organization that provides us with a tournament series, articles, seller storefront, and so much more. It was a lot of fun, and I'm thankful to the amazing people who work at TCGplayer who let me snap pictures of the place to show you all.
I'll preface this some more by saying that me getting to visit doesn't exactly make me special [Editor's note: I disagree!]. If you're within driving distance of Syracuse, NY, you're more than welcome to stop by and visit the offices for yourself, just like I did.

As someone who doesn't travel much (read: at all), the elevators in the building were a bit… interesting, and took a few minutes to figure out. Don't ask how they tricked me, it just happened. Once I defeated the first challenge, I rode up to the tenth-floor offices. TCGplayer was hard to miss:
I took a seat in the comfortable couches that you can see in the above photograph, but it wasn't too long before my tour started. I met Sean, my tour guide. We started off at the TCGplayer Direct shipping center, where I got some great pictures of TCGplayer's neatly sorted inventory. If you hate ordering from multiple different sellers at once, you can click the "TCG Direct" checkbox, and all of your selected cards will come in one convenient package, no matter how many sellers you ordered from. On the other end of the spectrum, individual sellers and stores that ship a dozen packages every day can now just send one large package to replace their inventory and have TCGplayer ship orders to buyers. Although I don't personally sell enough volume on my personal TCGplayer store (as a general rule, sellers must complete at least 100 orders in the past 30 days and have a feedback rating of 99.5% or higher before applying), it's certainly something I would consider if I sold cards through the website at a much higher frequency.
Where were we?
Oh, right.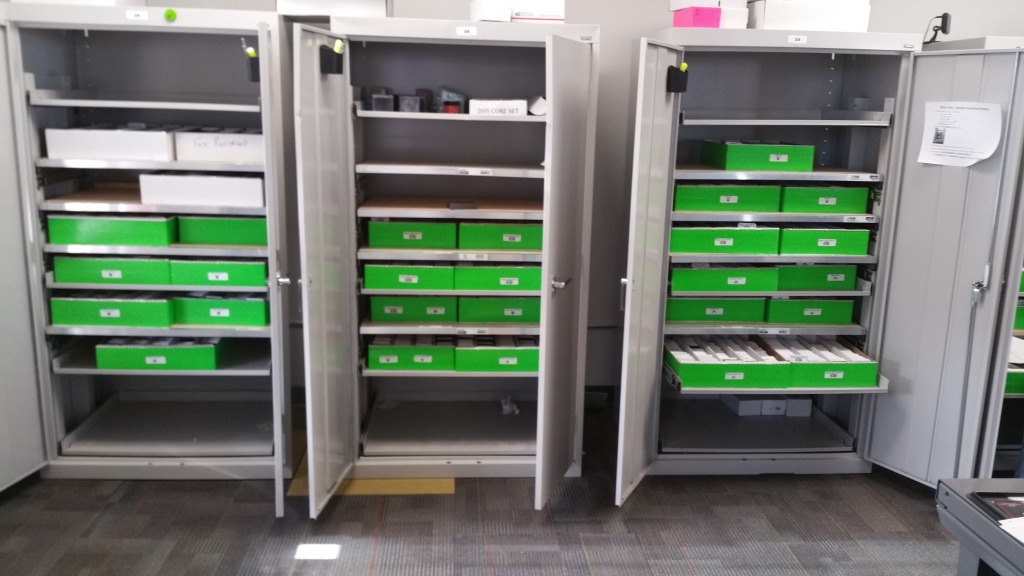 And I thought I had a lot of cards…
Everything's sorted by set and then alphabetized, which is the most efficient way to organize your collection, especially if you're in the habit of buylisting. Almost every online buylist will request that you have the cards presorted in this condition, or will give you a percentage bonus in how much money you get for doing so. I was in the habit of sorting by color for the longest time, but there's really zero benefit to doing so when you deal with a larger quantity of cards. Every morning, TCGplayer has a designated set of "pullers", who go through the lists of orders from the night before and grab every card that they'll be needing for that morning's shipments from the cabinets above, which get sorted into a cool sorting tray.
From here, the cards in each order get pieced together, and what would have had to have been four or five different packages gets condensed into a single shipment.
A Quick Aside
I'm personally looking into getting one of these sorting trays myself, so I asked the Twitter population where the best choice to pick one up would be. Some of the suggestions were as follows. I haven't locked in my personal purchase quite yet, so if anyone else has the following sorting trays and wants to voice their opinion on the positives or negatives, I'm all ears!
BCW is where I get all of my 1000-count boxes, and I've never been disappointed with their pricing. They specialize in bulk sales, so if for whatever reason you need 10 or more sorting trays, this is probably your cheapest option. This one has 24 total cells to sort cards into, which is unfortunately two letters short of the whole alphabet. Thankfully, I doubt you'll be sorting too many X or Q cards, so it shouldn't be too much of an issue.
CoolStuffInc is a lot more expensive, but is specifically designed for alphabetizing. Being $32 plus shipping really puts me off on wanting to order one, considering I can just make custom labels for the other trays like TCGplayer did. Definitely not a fan of paying $20+ for fancy letters and slightly more durable plastic.
Last, we have Troll and Toad. Although their tray only comes with 18 slots, it's $10. The BCW one is $10 for just a single piece, getting cheaper the more you order. I don't really see any hard advantages over BCW, so maybe writing this out helped me make my decision. Let me know if I'm wrong!
Back to TCGplayer HQ
On the other end of the tables, I got to see where all of the incoming cards go through. In order to [card]Replenish[/card] their inventory, several employees spend the morning unwrapping the incoming packages, verifying the condition and quantity with the packaging slip, then move it along to be sorted back into the mass of inventory.

After going through the shipping center, I got to learn about some of the parts of TCGplayer that made it look like an amazing place to work. I'm going to sound like a public relations official for the company at this point, but to be honest, I would definitely apply to work here if I wasn't already going to college, living an hour away, and representing Brainstorm Brewery. If you're someone who wants to get in some cardio while you work on the computer, they had two treadmill desks where you can multitask. Maybe this is a common thing in office spaces nowadays, but I've never seen it and thought it was extremely thoughtful of the management. Everyone who I talked to at TCGplayer sounded sincerely excited and happy to work there. While I know there are multiple horror stories of certain unnamed stores in this community, TCGplayer is the polar opposite, and is a shining example to the rest of the card industry.
While I've raved about how TCGplayer looks like a great place to work, I haven't talked much about what they do for the customers that allow the site to exist. A company exists because people spend money on their product, and a good company will give its customers a reason to do that over and over again. If you remember back to last fall when TCGplayer announced the opening of its Direct program, the company also gave goodies out to lucky individuals who made a purchase via the Direct program in the opening weeks. These included Modern staples like [card]Liliana of the Veil[/card], [card]Mox Opal[/card], oh, and uh, [card]Black Lotus[/card]. They gave away the Power 9, just as a thank you for the support they've received up until now from the community.
In Recent News..
I got to meet and talk with the customer service team while I was visiting, and this is exactly the type of thing I would expect from them after our conversation. They dedicate time and effort to every message, whether positive or negative. As a seller, I've had multiple positive interactions when dealing with issues that have come up with buyers. TCGplayer will go out of its way to fix whatever issues you might have with your order, while some companies will just hope the problem just gets brushed under the rug.
End Step
While my column is normally restricted to financial advice related to the game, I couldn't pass up an opportunity to share my experience visiting the TCGplayer offices. Everyone I met was friendly, kind, and seemed like a family to each other. I can't discuss some of the things I talked about, but I can assure everyone that there are some awesome things in store for the future, for both buyers and sellers alike.
Have you personally had an awesome experience with TCGplayer, where they went above and beyond for you? Let me know in the comments below!